Download the full Seattle Rail Map on
App Store &
Google Play.
* Your first map is free!
Seattle Rail Map - Available now as a poster!
Seattle Rail Map - Poster 40x60 cm
Seattle Rail Map - Poster 60x90 cm
The poster of the Seattle Rail Map is available in the Urban-Map online print shop worldwide.



Printing, delivery and service by Spreadshirt. Production and sales are in Europe, America and Australia and available to ship worldwide.
Poster edition, get yours to day!
The City Rail Map app provides a map guide for the city of Seattle
The Seattle Rail Map includes the public transportation system, as well as many major landmarks and points of interest. In addition to the maps, the City Rail Map app for mobile devices provides a route planner, the ability to search for all transport lines and station locations and connections, GPS support and many more features for your city trip. The handy › City Rail Map is therefore the ideal companion for traveling and getting around the city.
Discover this app for your city trip.
The app includes Seattle and even more 60+ cities.
See why travelers love the app:
Offline maps and navigation!
Distance, travel time and transfer information
Favorite places
Walking directions
Address lookup
Optimized for all your devices
Find out more about the City Rail Map › here.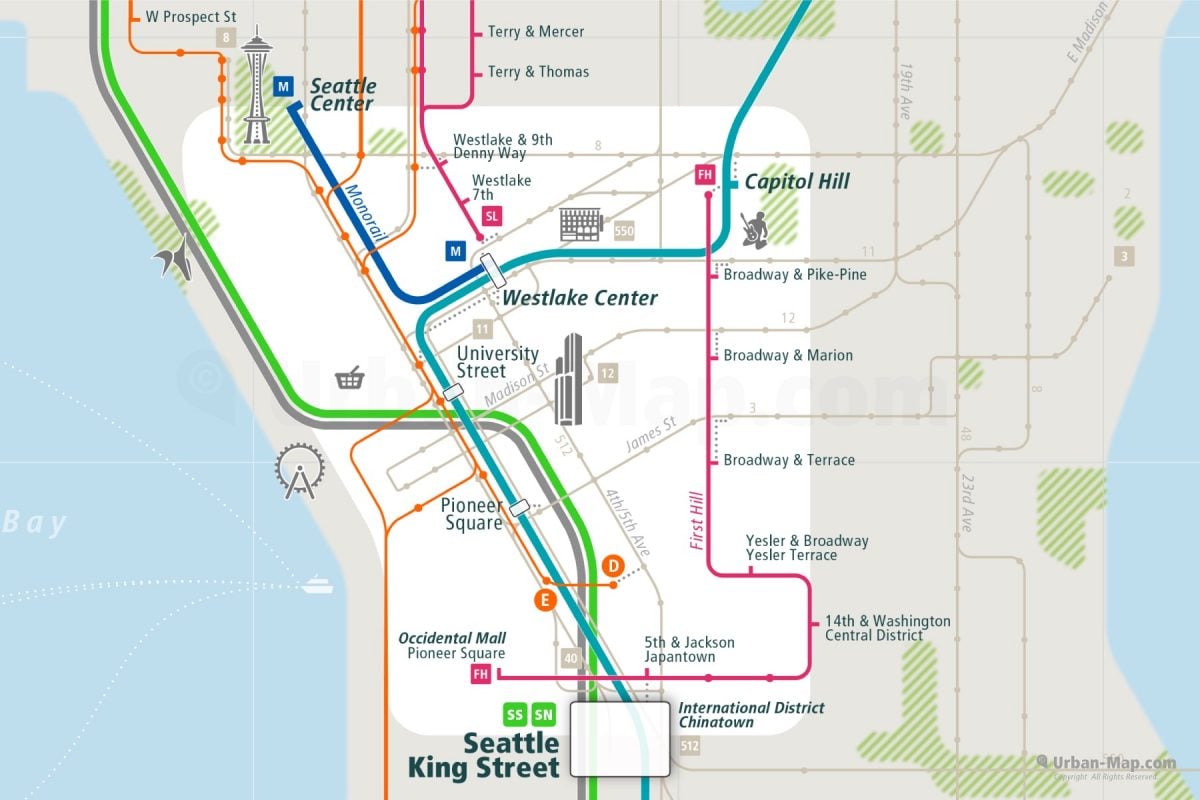 Let the Seattle Rail Map show you the way where to go, where to stay and how to get there!
Seattle, a metropolis consisting of nearly 4 million people with a dozen cities, is located in the Pacific Northwest between Puget Sound and Lake Washington in King County and is surrounded by Cascade mountains to the east and the Olympic mountains to the west.

Sun Icon
Weather & Climate Seattle Rail Map
The weather is mostly warm in summer and cool and wet in winter. Your clothes should be warm in winter time. A rain jacket and waterproof shoes are advisable.

Airport Icon
Airport Seattle Rail Map
The most common way to reach Seattle is by airplane. The Seattle-Tacoma International Airport is the main airport. From Sea-Tac Airport to Downtown by Sound Transit's Link Light Rail the travel time is about 40 minutes. Seattle is well connected to » Los Angels, » San Francisco, » Vancouver, » Chicago, » Seoul and » London.

Train Icon
Transit System Seattle Rail Map
In Seattle it is not recommended to use a car. With the trains of Central Link, monorail, streetcar and bus you easily reach most travel destinations within the city. Pioneer Square and Westlake Center are the hubs where the trains, monorail, streetcar and bus connect, from early morning to midnight. The RapidRide, a bus rapid transit and the trains of North and South Line provide a comfortable and fast public transport system to the cities of Tacoma, Bellevue and Everett around Seattle. For bicycling there are extensive trails and lanes are available, but the city is hilly and the weather is often rainy.

Home Icon
Accommodation Seattle Rail Map
The best places to stay for business are Downtown. For vacation and family activities, near the Seattle Center will be a better choice.
For hiking and outdoor activities, you will find a good places near the mountains or parks.

Eating
Eating & Going Out Seattle Rail Map
Nice coffee shops and small restaurants for eating and drinking you will find in Seattle in every neighborhood or city. A famous food for Seattle is smoked salmon, crab cakes and coffee. You will find many possibilities at Pike Place Market and Downtown.
For dancing and nightlife around East Pike Street and upper north Capitol Hill are the places to go. For special features and popular places around Seattle are Waterfront Park, Space Needle, Mount Rainier and Museum of Flight, …
Talking
Talking Seattle Rail Map
English is the common language. The people of the city call Seattle "Rain City, Jet City or The Emerald City".

Images of the Seattle Rail Map
Below you can get a glimpse of the Seattle Rail Map. The full version of the map, including all main transportation routes and lines on rail and partly also bus and ferry. Special clearly marked stations, transfer hubs and interchanges for line transfer, as well as station names and landmarks represented. The Seattle Rail Map can be loaded in the › City Rail Map app.